Shrimp, Sausage, and Fish Jambalaya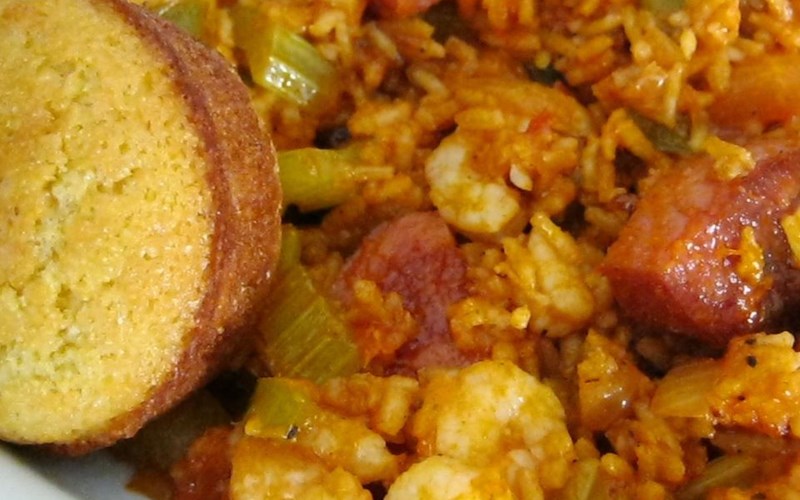 Preparation
30m
Cook Time
10m
Ready In
40m
Servings
6
Calories
622
Ingredients
1/4 cup butter
10 ounces andouille sausage, halved lengthwise and cut into 1/4-inch half-moons
1 cup diced onion
1 cup diced celery
1 cup diced green bell pepper
1 1/2 teaspoons minced garlic
1 (6 ounce) can tomato paste
1 (14.5 ounce) can diced tomatoes
2 teaspoons Worcestershire sauce (such as Lea & Perrins®)
1 1/2 teaspoons Cajun seasoning (such as Tony Chachere's), or to taste
1/2 teaspoon ground black pepper
4 cups low-sodium chicken broth
2 cups medium-grain rice
3/4 pound shrimp, peeled and deveined
3/4 pound cod fillets, cut into 1 1/2-inch chunks (optional)
salt to taste
1/3 cup chopped fresh parsley
Steps
1Melt butter in a heavy-bottomed pot over medium-high heat. Cook andouille sausage in the melted butter until completely browned, about 5 minutes. Remove the sausage with a slotted spoon to a plate lined with paper towel.
2Cook and stir onion, celery, and green bell pepper in the butter remaining in the pot until the onion becomes translucent, 5 to 10 minutes.
3Stir garlic into the onion mixture; cook and stir together for 1 minute.
4Stir tomato paste through the vegetable mixture; cook and stir another 3 to 5 minutes.
5Return andouille sausage to the pot along with diced tomatoes, Worcestershire sauce, Cajun seasoning, and black pepper; stir to combine.
6Pour chicken broth over the sausage mixture; bring to a boil.
7Stir rice into the mixture, place a cover on the pot, reduce heat to medium-low, and cook undisturbed until the rice is tender, 25 to 30 minutes.
8Add shrimp and cod to the rice mixture. Increase heat to medium-high and cook until the mixture comes to a boil; reduce heat again to medium-low and cook uncovered another 10 minutes, stirring occasionally.
9Season with salt and fold parsley into the jambalaya to serve.