Roasted Sweet Potato Mango Salad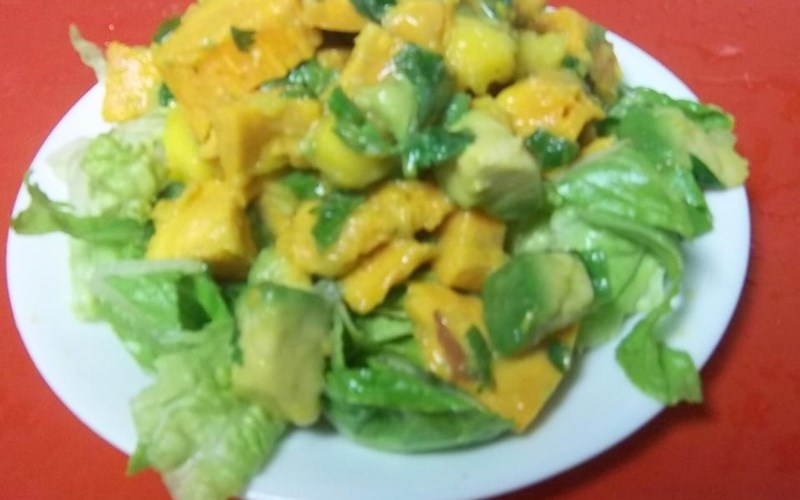 Preparation
20m
Cook Time
20m
Ready In
10m
Servings
6
Calories
495
Ingredients
Potatoes:
4 large sweet potatoes, cut into cubes
cooking spray
1/2 teaspoon salt
1/2 teaspoon ground black pepper
Dressing:
1 lemon, juiced
3 tablespoons olive oil
2 tablespoons brown sugar
1 teaspoon sea salt
1/2 teaspoon ground black pepper
Salad:
2 large mangoes - peeled, seeded, and chopped
3/4 cup minced onion
3/4 cup chopped fresh cilantro
1 large avocado - peeled, pitted, and chopped
1 green onion, chopped
1/2 habanero pepper, seeded and minced
Steps
1Preheat oven to 400 degrees F (200 degrees C).
2Spread sweet potatoes onto a baking sheet; spray with cooking spray and season with 1/2 teaspoon salt and 1/2 teaspoon black pepper.
3Roast potatoes in the preheated oven until soft, about 20 minutes. Transfer potatoes to a plate and refrigerate until cooled completely.
4Whisk lemon juice, olive oil, brown sugar, sea salt, and 1/2 teaspoon black pepper together in a bowl; let rest for at least 5 minutes.
5Mix chilled sweet potatoes, mangoes, onion, cilantro, avocado, green onion, and habanero pepper together in a large bowl. Drizzle dressing over potato mixture and toss to coat.