Chef John's Sausage & Shrimp Jambalaya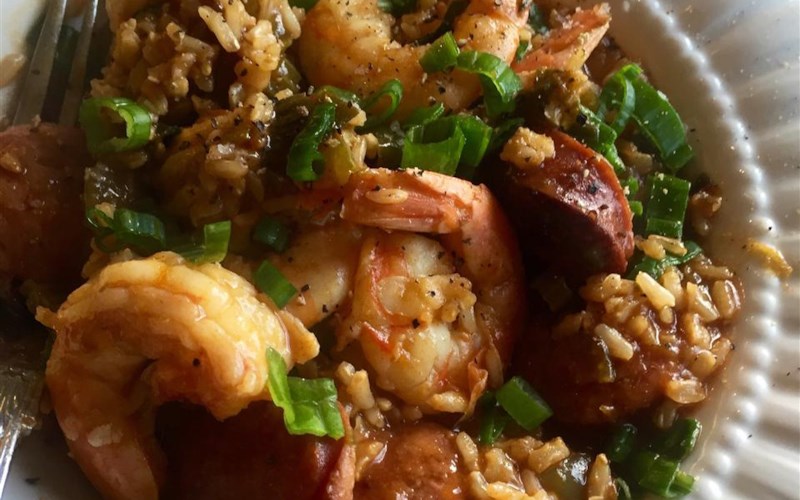 Preparation
15m
Cook Time
1h
Ready In
15m
Servings
4
Calories
495
Ingredients
2 tablespoons butter
8 ounces andouille sausage, cut into 1/4-inch slices
2 tablespoons ground paprika
1 tablespoon ground cumin
1/2 teaspoon cayenne pepper
1/2 cup diced tomatoes
1 large green bell pepper, diced
2 stalks celery, sliced 1/4 inch thick
4 green onions, thinly sliced
1 teaspoon salt
1 bay leaf
1 cup uncooked brown rice
3 cups chicken stock
1 pound large shrimp, peeled and deveined
salt and ground black pepper to taste
Steps
1Place butter and sausage in a large stockpot over medium heat; cook and stir for 5-6 minutes until sausage begins to brown.
2Stir in paprika, cumin and cayenne; cook for 1 minute.
3Stir tomatoes, onions, celery, green pepper, green onions, salt, and bay leaf into sausage mixture.
4Add brown rice and stir to combine. Stir in chicken stock and turn heat to low. Cover and cook for until rice is just tender, about 45 minutes.
5Stir in shrimp, replace lid and cook for 5 minutes. Season with salt and black pepper.